Michigan Marauders

Tier Level
[[Tier 5]]
League Number
League 1813
Date Founded
June, 2008
Season Founded
End of Season 13
City
Grand Blanc, Michigan
Home Arena
The Mitten
Colours
Black, Red
General Manager
Homer Jay
Head Coach
Marcel Gee
Captain
Dillon Littell
Play-off Wins
N/A
Play-off Finalists
N/A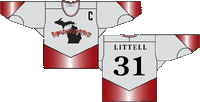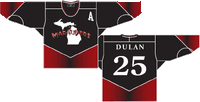 The Michigan Marauders are a professional hockey team based out of Grand Blanc, Michigan. The team was in formed in June of 2008 as part of League 1813 in Tier 5 of the GHL just before the beginning of the Season 14. The team's home arena is The Mitten, a new, state of the art, customizable arena capable of changing it's capacity from 7,500 up to 20,000.
Franchise History
Edit
The Inception of the Marauders
Edit
In 2008 Homer Jay after many years working as a Zamboni operator finally got his big break, he won the lottery. After retiring from his ice cleaning profession he needed himself a new hobby. Being and avid hockey fan for as long as he could walk, he thought what could be better than starting his own hockey franchise. Living and raising his family in Grand Blanc, Michigan, he thought what better place to make his start. While his new stadium was under construction, he set out to find himself a head coach. After recently hearing about his longtime childhood hockey hero hitting rock bottom and filing for bankruptcy, he thought what better way to give someone a second chance. It took a little persuading, but he was able to hire Marcel Gee as his head coach.
The coach hired, it was time to find some guys to fill his roster. Being the end of season 13, he knew it would be no easy task to fill the minimum roster requirement of 18 players and 2 goalies. Being all about giving guys a second chance, that's what he set out to do. His roster finally filled with old timers, rejects and inexperienced rookies that nobody wanted to take a chance on. He knew this first season would be a lot of hard work and training. So it begins, the Michigan Marauders will hit the ice for the first time in season 14.
Season-by-season record
Edit
Note: GP = Games Played; W = Wins, L = Losses; OTL = Overtime Losses; OTW = Overtime Wins; Pts = Points, GF = Goals For; GA = Goals Against
| | | | | | | | | | | | | | |
| --- | --- | --- | --- | --- | --- | --- | --- | --- | --- | --- | --- | --- | --- |
| Season | League | Tier | GP | W | L | OTL | OTW | Pts | GF | GA | Streak | Rank | Playoffs |
| 14 | 1813 | 5 | 15 | 14 | 1 | 0 | 0 | 28 | 69 | 12 | W-10 | 2nd | N/A |
Season Scoring Leaders
Edit
| | | | | | | | |
| --- | --- | --- | --- | --- | --- | --- | --- |
| Player | GP | Goals | Assists | Points | +/- | SOG | S% |
| Littell, Dillon | 15 | 12 | 7 | 19 | 14 | 73 | 16% |
| Birge, Malcom | 10 | 11 | 8 | 19 | 11 | 60 | 18% |
| Leuthauser, Chester | 14 | 9 | 6 | 15 | 13 | 49 | 18% |
| Heimark, Robin | 15 | 7 | 7 | 14 | 6 | 64 | 10% |
| Mohrlock, Stefan | 15 | 6 | 5 | 11 | 13 | 36 | 16% |
| Ordoyne, Stewart | 15 | 6 | 4 | 10 | 10 | 49 | 12% |
| Moates, Berry | 15 | 4 | 4 | 8 | 9 | 16 | 25% |
| Excell, Lazaro | 15 | 3 | 3 | 6 | 5 | 34 | 8% |
| Ruocco, Harland | 15 | 2 | 14 | 16 | 14 | 49 | 4% |
| Alterio, Levi | 3 | 2 | 4 | 6 | 2 | 12 | 16% |
| Gerasimov, Denis | 15 | 2 | 2 | 4 | 5 | 25 | 8% |
| Palagi, Hiram | 15 | 1 | 1 | 2 | 2 | 8 | 12% |
| Chiaravalle, Basil | 15 | 1 | 5 | 6 | 9 | 8 | 12% |
Current Roster
Edit
Note: C = Captain; A = Asst. Captain; r = Rookie; IR = Injured Reserve
Goaltenders

#
Player
Catches
Acquired
Place of Birth
1
Hemish, Angel
R
Season 13
Houston, Texas
12
Nirschl, Bart
L
Season 13
Upper Musquodoboi, Nova Scotia
Defensemen
#
Player
Shoots
Acquired
Place of Birth
25
Dulan, Amos (A)
L
Season 13
Meteghan, Nova Scotia
78
Demidov, Iosif
R
Season 13
Petropavlovsk-Kamchatskiy, Russia
90
Chiaravalle, Basil
R
Season 13
Sarasota, Florida
46
Moates, Berry
R
Season 13
Harrowsmith, Ontario
75
Gerasimov, Denis
R
Season 13
Tolyatti, Russia
57
Palagi, Hiram
R
Season 13
Maidstone, Saskatchewan
Forwards
#
Player
Position
Shoots
Acquired
Place of Birth
89
Heimark Robin
RW
R
Season 13
Enniskillen, Ontario
32
Birge, Malcom
C
L
Season 14
Canmore, Alberta
7
Leuthauser, Chester
LW
R
Season 13
Bedford, Nova Scotia
31
Littell, Dillon (C)
LW
L
Season 13
Brighton, Nova Scotia
69
Ruocco, Harland
C
L
Season 13
Kapuskasing, Ontario
5
Mohrlock, Stefan
RW
R
Season 13
Höganäs, Sweden
43
Excell, Lazaro
C
R
Season 13
La Sarre, Quebec
28
Ordoyne, Stewart
RW
L
Season 13
Chesley, Ontario
33
Sproat, Harrison
LW
R
Season 13
Brights Grove, Ontario
2
Toole, Hale
RW
R
Season 13
Fagersta, Sweden
58
Haer, Kirk (r)
LW
L
Season 13
Napanee, Ontario
36
Shockency, Devin (r)
LW
L
Season 13
Minnedosa, Manitoba
Coaching Staff
#
Player
Position
Age
Acquired
Place of Birth
-
Gee, Marcel
Head Coach
41
Season 14
Enköping, Sweden
-
Espelien, Lage
Assistant Coach
37
Season 13
Örebro, Sweden
[[Image:

|left|thumb|130px]]